Review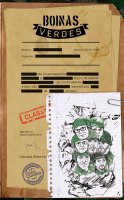 Title: Boinas Verdes: De Commandos a Pyro Studios: un turbulento viaje del estrellato al olvido
Author(s): Jaume Esteve
The late nineties were a golden era for videogames, with so many great titles coming out, and most of them being released on PC. The Spanish game development scene was a far cry from the 8-bits era, but there were a few good studios remaining, and new ones appeared, like Pyro Studios. Their first game, Commandos: Behind Enemy Lines would would become an international success, but also a national example of how Spain could also create triple-A titles. The saga would spawn a trilogy, plus a mission pack (of the first game) and a first-person shooter spin-off, and the studio would release a few other titles, before pivoting to only mobile games, and lastly disappearing in 2017.
This book narrates the story of all the Commandos series games, but also tells us about cancelled prototypes of other titles, and the last decade, when they slowly faded away into nothingness. A story full of insanely hard work, some good and some (many?) bad decisions, and many, many human problems that would impede the studio from flourishing, and instead sentenced it. A story of some well known characters in the Spanish game development scene, but also of other hard workers that helped building the titles and might not have had enough recognition until now.
It is hard for me to not be subjective evaluating Boinas Verdes, because of two reasons. On the one hand I played all the titles, although, as we'll read that was common, I was one of those people who finished the first game, but then only purchased but didn't really finished the following ones (although I might now, except the FPS). On the other hand, I've had the pleasure to meet and briefly chat with a few of the main characters (except in the case of Unai Landa, that we've met a few times) and I admire them (even if, in some cases, they are not perfect).
The title covers a breadth of topics, and I was happy to find some technical details explained here and there, although always in a simple language that anybody can understand without technical knowledge. And how could a discussion about Pyro not mention Cops, a doomed title that could have been amazing (at least technically) but never materialized after 3 iterations and a lot of money invested? If anything, reading this book felt short, but around 250 pages it is quite packed, including some great illustrations and sketches of scenery and characters.
In summary, a great tribute to a great saga.