Yesterday I posted about IE8 Accelerators, which are very trivial and simple to create. But today, I have done something more interesting: I've created an Internet Explorer 8 Web Slice :)
You can find it at the home page, hovering the mouse button over the latest news colum: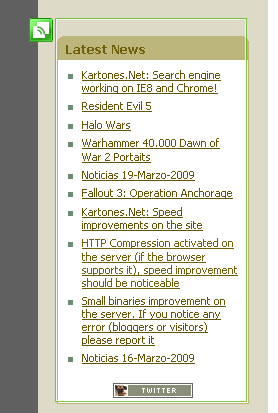 Just click on it and add the Slice.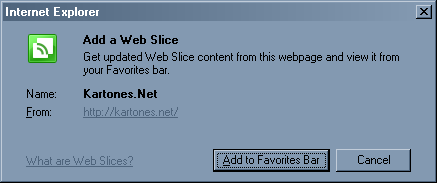 And now you're subscribed to Kartones.Net last 10 posts in this "new" way * :D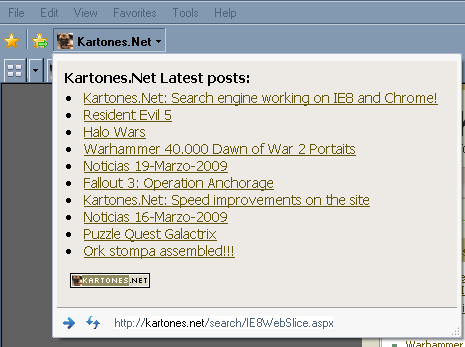 About the development...
You can check the MSDN for a few basic guidelines, but I warn you you'll find by yourself that slices are quite limited.
Looks like IE8 "cuts" the HTML part you mark as the slice, so it is way too easy to get errors trying to visualize the slice (and they don't give any information about the error). Also, Javascript is not supported on a web slice (will just be ignored).
So, basically, you will rely on creating a stripped-down version of the page you want to "slice", and use the <a rel="entry-content" href="xxxx"></a> tag to point to that working version.
I re-burned my own RSS feed (the new SyndicationFeed class of .NET Framework 3.5 is great ;) and CSS-styled a bit the content.

I don't feel this web-slices are so great (mostly because of the problems of displaying normal content, I'm sure almost everybody is going to use the alternate content page), and not supporting Javascript looks prehistoric, but at least it's a new feature interesting for those too lazy to use an RSS reader.
*IE8 Web slices smell a lot like Safari's Web Clips.