Last month I forgot to post anything so here comes one of the books I read some weeks ago, Speccy Nation. Small, cheap and not especially good, but hey, I paid less than 2€ for it so what could I expect...
Review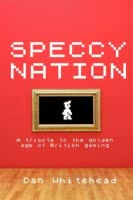 Title: Speccy Nation
Author: Dan Whitehead
A small 124 pages B&W book about 50 ZX Spectrum games chosen from a British perspective. Nothing less, nothing more. Some are terrible games (chosen on purpose), some are really good classic ones, but I really miss international games, as for example Spain had lots of really good titles.
The writing is good, even in the case of really straightforward and even simple titles, knowing when to simply explain how the game worked and when to expand with what made it really different from others.
Some chapters about the Spectrum itself or its history would have been welcomed, but we get exactly what we're told about. The description of games vary in length, some being a bit small (1 page including a screenshot) others being 2 pages long, sometimes they feel not extense enough and in a few cases you don't even get to know exactly how the game was played, but is the exception, not the norm.
Overall, a really cheap title so if you feel nostalgic is a good quick read to maybe grab ideas of some games to play (if you're able to get them).