Today, with the rain and the religious stuff all over Madrid, was a perfect day for staying at home warm and code some stuff... Initially I was going to do only a proof of concept, but I've ended finishing something interesting... The mobile version of Kartones.Net,m.kartones.net!
It is in beta because some things need polishing: For example, the pages themselves are perfectly XHTML 1.0 strict valid, but the actual posts usually aren't. The site is almost unstyled (I don't plan adding too much things, but at least some menu options and footer differentiation would be nice), there are only two sections, only the latest 5 posts of each blog can be readed...
But the site source code is small and fast, and the output HTML is pretty small (2-3KB for normal pages, between 20-60KB for a full 5-post blog render), so my goal is achieved, and now it's an improvement task.
One note, though: This is not a mobile Community Server component/module/conversion. It is a custom-made small ASP.NET 3.5 web application, so don't get confused, it fetches data from CS blogs but that's all.
Here are some screenshots made with the PocketPC Emulator (which doesn't renders all the images, so I'll update with a real device ones tomorrow). As I said, it is very very simple and right now limited, but I will make some improvements soon ;)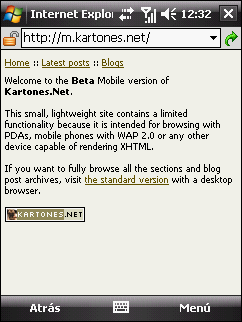 The home, just an intro and an advise (I'm not planning to do a WML version, sorry).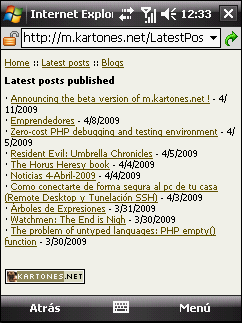 The Latest Posts section, useful for checking if there are new contents on the community. You can click on one post to read it, of course ;)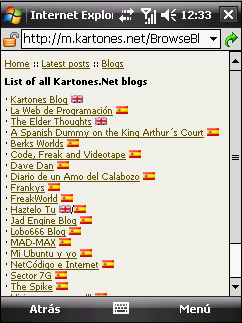 A list of all the blogs.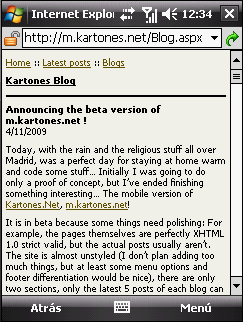 And a sample blog rendering. Image sizes are original ones so depending on your device you will see them pixelated or decently :)
Hope you like it, any feedback will be much appreciated!