Second, and for now last, book regarding people/team management that I've finished recently. The perfect companion to read alongside Peopleware, full of interesting advices, at least for noobs in management like me. Now, for other topics as the best way to improve is to practice.
Review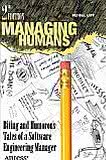 Title: Managing Humans: Biting and Humorous Tales of a Software Engineering Manager
Author: Michael Lopp
Managing Humans talks about a 20 years of experience manager and his advices, lessons, tips, experiences lived, mistakes done... But written full of humour, jokes and funny scenarios and comments, up to the point that even the glossary at the end is really and worth reading for some geeky jokes. It touches many topics, from pure people management to handling meetings, stressful scenarios, problematic employees, inter-team communications, recruiting, avoiding churn/burnouts, productivity...
I won't get too deep because it covers a specific area, but there it nails it (from my humble opinion), so if you want to improve your team lead skills I think can be really useful. also, you can check my notes below to see some fragments of the content.
Notes
A manager's job is to take what skills his people have, the ones that got them promoted/hired, and figure out how to make them scale.
Manager must haves:
"speak the language"
Language of the lazy: Avoid managementese language, use tech language to communicate with your team
When talking to individuals, talk to them using the familiar language of a friend
Talk to your team/people often
Action per decision: Don't just say, do
Good position in the political food chain
Able to control when they lose their shit
Rands Test (can only fail one):
Do you have a one-on-one?
Do you have a team meeting?
Do you have status reports?
Can you say no to your boss?
Can you explain the strategy of the company to a stranger?
Can you explain the current state of business?
Does the guy in charge regulary tell you/in public what he's thinking? Are you buying it?
Do you know what you want to do next? Does your boss?
Do you have time to be streategic?
Are you actively killing the grapevine?
One-on-one outcomes:
The Update (all clear)
The Vent (something's up...)
The Disaster (oh dear...)
Tips for one-on-ones Updates:
Have three prepared points: To break the ice or have some thread to talk in the first 10-15 mins
Mini-performance reviews: Change a status 1on1 to a small review
My current disaster: Chat about a problem you have
Assume they have something to teach you
When communications are down, listen hard, repeat everything, assume nothing
Tips for one-on-one Vents:
Don't redirect
Listen, but if doesn't seems to finish (is a rant), close it
Tips for one-on-one Disasters:
Shut up, listen, wait for the end
Is not about the issue anymore, it's an employee emotional explosion
Is the end result of poor management (employee thinks is the only option left to make change)
Rands 1.0 Hierarchy of needs (seen as an inverted pyramid):
Product
Process
People
Pitch
Process defines Communication. It is the means by which people communicate.
An early organizational chart is a great stagnation warning sign if happens during your version 1.0 lifecycle.
Don't cheat the learning process
Sleep on changes & discussions (let them root)
Reinvent communication and ourselves each time company doubles size
"The curse of success is that we have to move slower"
A flat org is one where power, accountability and responsibility are distributed evenly
If you want to be a good manager, stay flexible, remember what it means to be an engineer, and don't stop developing
When people and teams work together perception of importance changes: There's no shit work when the work is all yours; there's just work you like to do and work you have to do.
Thinking and having ideas:
In order to create, you need time to think. when you're busy, you're not thinking, you're reacting.
An offsite day to kickoff is a good start, but you really need to create a thinking-conductive environment in the workplace (where most work happens).
If stuck on ideas/thinking, write it down, throw it away and write down again.
People who talk fast, without thinking, might be moving quickly to cover up the gaps in their knowledge.
An individual tends to be very bad at work estimates until they've begun the work
Incident reports:
Initial step for incidents is information adquisition, not action
Do always two sweeps to try to avoid mistaks/missing bits. vet the model with at least 3 other people qualified
Building people and producs:
Managers don't create product, create process
A product needs balance between creating predictability (to avoid chaos) and disruption/hacking (to avoid stagnation)
Maintaining a healthy team: bored people quit. team is full of people who aren't you
A team lead's job is not only building product, but also building people
Aspects to search for in an interview: technical (strong tech skills/knowledge), cultural (fit, both team and company), vision (likes to change the world)
Obsessibly protect your people's space and time (let them focus)
A reorg always happens because of a company change of strategy