I've just received a license to eval and review a new tool to generate both help files and blog posts, Helpburner. It's premise is to be quick and easy to use, with a minimalistic interface: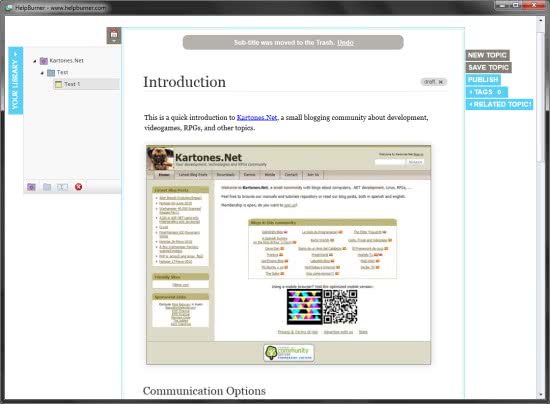 You handle projects, sections and individual topics (or pages or posts, as you want to use it). Inside them, you will add one of the four pilars of editing content:
Title text block: The typical title
Text block: One or more paragraphs of text without images
Image block: One image from the computer
Screen capture block: An image that you will capture from the screen (obviously targeted at application help files and tutorials)
Each block/element (the selector is the blue part of the following screenshot) has its own options bar, with contextual ones like text align, colors, hyperlinks...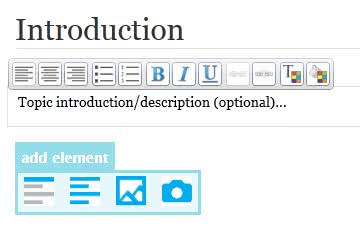 The blocks can be moved up or down and removed. As you might guess, everything is simplified, for the good or for the bad. It is not a Word clone, but is more suited and faster to use than Google Docs for certain tasks.
Helpburner includes a spell checker also, not bad but at least I couldn't find a setting to disable it.
About the publish formats, three are available: Export to PDF and HTML for normal help fles, and publish as a blog post. Any blog supporting Metaweblog API can be targeted, so all major blogging platforms are supported.
When creating topics you can specify tags and related topics (very common for blog posts).
This is a sample page of a generated PDF with title, text and images: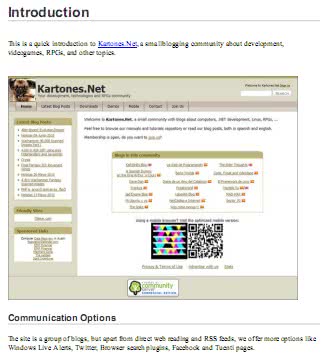 Lastly, I would like to talk about small problems or features missing. They are not many and considering that the application is still in Beta can be easily fixed or added, so here we go:
PDF export is pretty basic: Image quality is not bad but images are embedded not at 100% quality . Also you can't specify any margin size, or a footer/header.
I had a small bug when resizing an image (a blue box appears to grab a screenshot?), nothing major but a bit annoying.
At a price tag of 79$ I find it a bit too much for individuals. It is for sure easy to use and you can generate PDFs in no time, but it needs more features to make it really interesting. For blogging, compared with Windows Live Writer (which is free) it might need "something else" apart from the ease of use.